At R&B Cellars, we believe that wine-making is as influential and powerful as music. It should be inspiring, full of passion, and have the ability to bring people together to celebrate life, happiness, and community.
Located in the East Bay of San Francisco, owners Kevin and Barbara invite you to come to the Riggers Loft, their new winery and tasting room in the Port of Richmond (right next to beautiful Point Richmond) to experience the combination of delicious wines and great music in one of the greatest communities in the area.
As lifetime musicians, Kevin and Barbara understand that like music, wine is something you create to be shared… with friends new and old, and with the world, which is why they offer several different varietals and price points for different styles, tastes, and personalities. The move to the Riggers Loft in the Port of Richmond will allow Kevin and Barbara to fulfill their dream of creating a unique wine tasting experience where the marriage of music and wine come together. The 270 degree view of the San Francisco Bay only adds to the experience.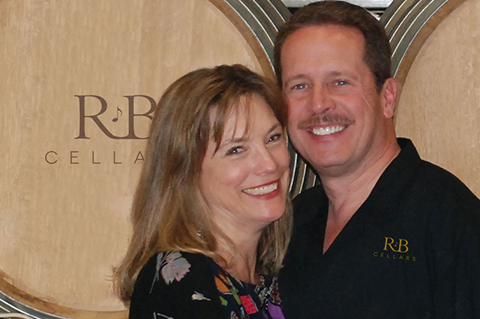 Tasting Room – Riggers Loft Wine Company

Tasting Room Hours:
Thursdays & Fridays: 4-9pm
Saturdays: 12-9pm
Sundays: 12-6pm
Come to the Riggers Loft Wine Company in Richmond, CA.
Come to where great wine mingles with delicious food, where folks can relax with friends, and where it all comes together for the most amazing view of the San Francisco Bay! 
Live music on Friday evenings, and often on Saturday. 
Enjoy artisan, hand-crafted wines in a historic World War II building.
Soak up an unparalleled 270-degree view of the San Francisco Bay. (We're a stone's throw from the Bay.)
Pair your wine with some great live music!
A Wine Collective: The Riggers Loft Wine Company is home to R&B Cellars, as well as our resident wineries: Carica Wines and Irish Monkey Cellars, and our resident "Cider Man" – Far West Cider Company. (Far West's ciders will be available soon in the tasting room.) Choose from several different flights of wine. Or let us help you create a personalized flight. Pair your wines with a delicious cheese plate. Or choose from Paul's "Street Eats" – our resident food truck purveyor.
Live Music: On Fridays, pair your wine with some mellow jazz featuring outstanding local talent.
Regular live music on Saturdays is coming soon.
Trivia: Thursday night is Quiz Night! Come at 6:30pm for team assembly, the fun starts at 6:45pm.
Information
Barbara Brown
1325 canal boulevard richmond, CA, 94804
Phone: 510-233-2065
Website: http://www.rbcellars.com/
Email: [email protected]